Doctoral Writing Fellows
Meet our 2023-2024 Fellows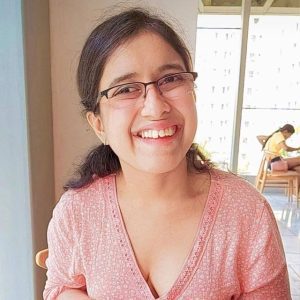 Doctoral Writing Fellow
In her role as DWF, she will be providing one-on-one writing feedback to doctoral and postdoctoral students and will conduct writing presentations and workshops. She is especially interested in supporting first-generation graduate students,non-native English speakers and students fromunderrepresented minority groups with academic writing and find their voice in academia. Her areas of interest as a Doctoral Writing Fellow lie in supporting graduate level writers from the humanities and social sciences, psychology and neuroscience, education, sociology, public policy, political science, economics and history.
Candice completed her BA in Psychology at St Xavier's College, (Autonomous), Mumbai and a masters degree in Counseling at SNDT Women's University, Mumbai. She is currently pursuing her PhD in Counselor Education and Supervision at UNC Charlotte. Her research interests lie in the areas of mental health and counselor education, as well as developing inclusive, affirmative therapeutic interventions for individuals from minority identity groups such as people of colour, LGBTQ as well as those who are neurodivergent or live with disabilities.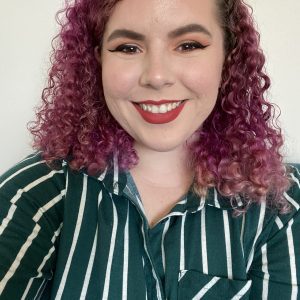 Doctoral Writing Fellow
Caitlin BrabbleRose (she/her) is a Doctoral Writing Fellow (DWF) for the Graduate and Postdoctoral Writing Center. She was a Teaching Assistant in the Department of Biological Sciences for five semesters and received the university's Outstanding Graduate Teaching Assistant Award in 2023. In her role as DWF, she will be providing one-on-one feedback to doctoral and postdoctoral students and will lead writing presentations and workshops. She is eager to work with graduate students to develop their writing skills and work with STEM students on building their science communication abilities.
Caitlin completed her B.S. in Biology and B.S. in Environmental Science from North Carolina Wesleyan University (NCWU) in 2018. She worked as a Toxicology Technologist for LabCorp from 2018-2021 and as an Admissions and Advising Coordinator for NCWU from 2020-2021. In 2021, she began pursuing her Ph.D. in Biology at UNC Charlotte, focusing on understanding the molecular internal timekeeping mechanisms of intertidal organisms (if you see her, ask her about crabs!). Caitlin is very involved with extracurricular activities and serves as the President of the Society for Advancement of Chicanos/Hispanics & Native Americans in Science (SACNAS) Charlotte Chapter and the Vice President for the Association of Biological Sciences Graduate Students.
---
About the Program
Doctoral Writing Fellows have a unique opportunity to take a leadership role in the Charlotte graduate student community. Dr. Lisa Russell-Pinson, Associate Teaching Professor of Writing in the Graduate School, and Dr. Katie Garahan, the Writing Resources Center Director, train and mentor Fellows in the development of graduate writing support programs, including one-to-one writing support sessions, writing groups, presentations, workshops, and retreats. Drs. Russell-Pinson and Garahan will also invite Fellows to engage in innovative writing research focused on graduate writer self-efficacy, international and multilingual student writing support, and writing program assessment. The Fellows' work will have a positive impact on the graduate student experience at Charlotte, and Fellows themselves will benefit from improved communication and writing skills and increased professional skills related to teaching, learning, and effective collaboration.
We are seeking doctoral students and candidates from STEM and social science fields who have strong writing and communication skills and wish to further refine these skills under the mentorship of Drs. Russell-Pinson and Garahan. We are particularly interested in hiring students with career goals related to science writing, grant writing, non-profit communication, and academic and educational publishing. This program prepares Fellows to be educational and cultural leaders with the skills to communicate with diverse audiences. Fellows can expect to gain valuable work experience through taking a leadership role at Charlotte, supporting the work of their fellow graduate students, and engaging in interdisciplinary collaboration.
Compensation and benefits:
20 hour/week assistantship
Doctoral in-state tuition
Competitive doctoral stipend, based on the student's program
Health insurance coverage
Shared office space
We are no longer recruiting for the 2023-2024 school year. We will begin recruiting for the 2024-2025 school year in January 2024.