Schedule an Appointment
Graduate & Postdoctoral Writing Center
Clients can schedule up to 1 appointment per week. Can't find an appointment? Join the waitlist!
All of our appointments are scheduled through our online scheduling software. You can follow these directions to make an appointment:
Go to uncc.mywconline.com.
Register for an account using your UNC Charlotte email address.
Log in, using the email address and password you just registered with.
Select the "Grad & Postdoc Center Denny 213" schedule as shown in the image below.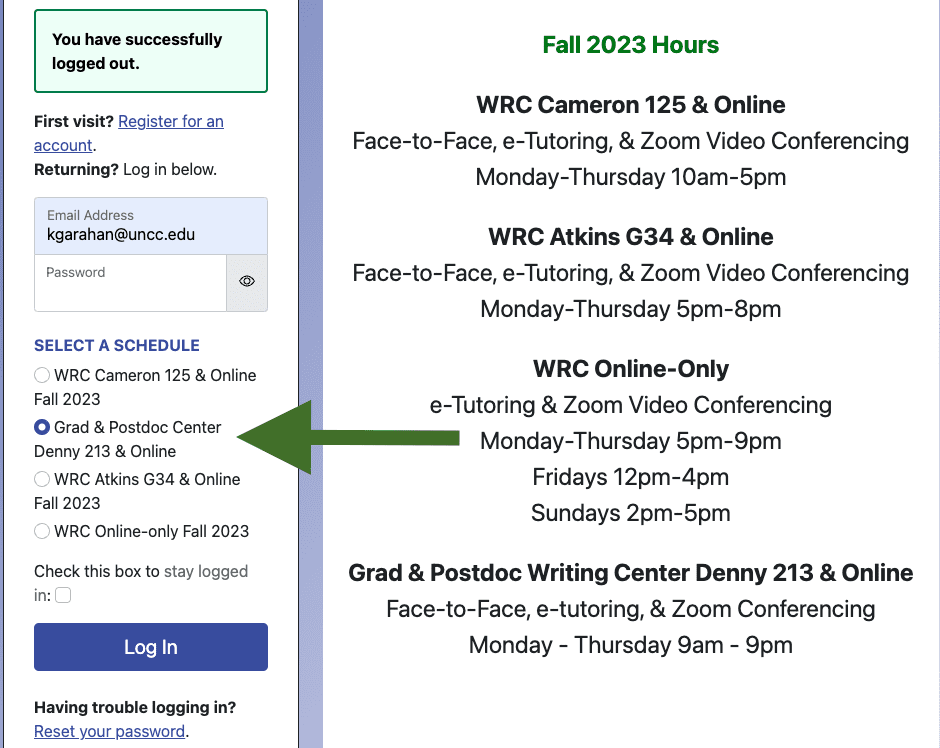 Click on any white box, which indicates an open appointment. The Appointment Form will open in a pop-up window.
In the "Meet Online?" section, choose what type of appointment you'd like from the drop down menu: face-to-face or video conferencing.
Fill out the rest of the Appointment Form.
Click Save Appointment at the bottom of the page.
Check the schedule to ensure that the white box you chose has turned gold. This indicates that your appointment has been saved.
Log out.
After logging out, you will receive an email confirmation of your appointment.
Note: WRC appointments begin on the hour and last up to 45 minutes. If you're running more than 10 minutes late, your appointment will be marked as a no-show and may be given to a walk-in who is waiting to be seen.
Join the GPWC Waitlist
Go to uncc.mywconline.com.
Log into your account.
Find the day you'd like to book an appointment. In the bottom, right corner, choose "Waiting List: Date." See below.